Important Message for Visitors to the Board
May 22nd, 2020
Beginning Tuesday, May 26, 2020 the Landon Building will reopen to members of the public who have business to conduct. The Board of Nursing lobby will be open to limited public traffic. We must observe social distancing requirements and continue to decrease the spread of COVID-19. The majority of staff continue to telework to decrease possible exposure. Due to these requirements, we must limit the number in our lobby to no more than 2 at a time. It is highly recommended that you conduct your business with the Board of Nursing via online services, mail, phone call or email. There is a secure drop box located outside of the agency that is available for anyone to drop off documents for the Board of Nursing. If you need to talk with someone, it is highly recommended you make an appointment so we can serve you when you show up. Only one person per appointment and no children or other adults are permitted. Telephone appointments are also available. To make an appointment, please call 785-296-2967. Given that many of our KSBN staff members are teleworking, the best way to contact them is via their email. You may find our direct agency contacts information listed under Staff Contacts on our website. Please continue to follow our website and social media [Twitter and Facebook] and our COVID-19 Information Center for agency updates and frequently asked questions. For quicker responses, we strongly encourage you to do business with KSBN via our online services located on our website, mail or fax. Thank you for your patience during this difficult and uncertain time.
Due to social distancing requirements, KSBN will NO longer perform fingerprinting services in the agency effective immediately. There is a list of fingerprinting sites with contact information on our website. Please assure you are bringing the information required at that site.

The mission of the Board of Nursing is to assure the citizens of Kansas safe and competent practice by nurses and mental health technicians.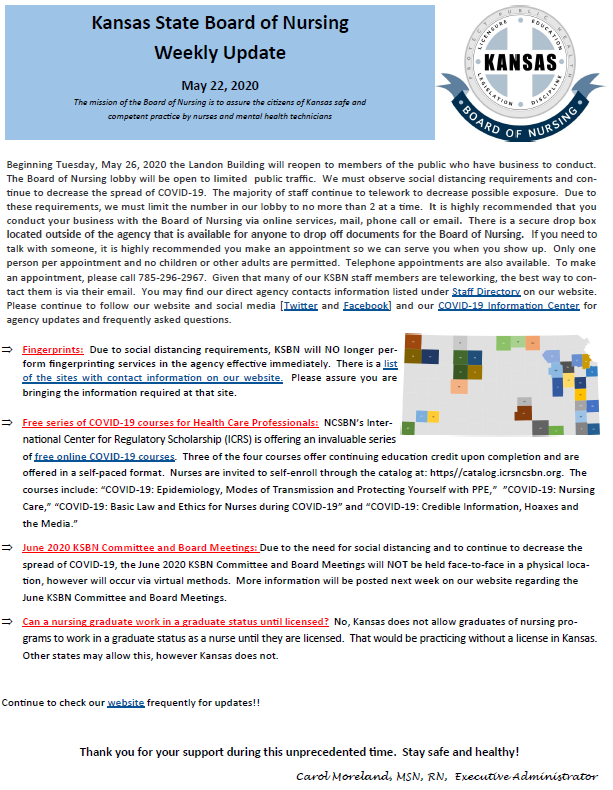 See how KSBN is handling in-person traffic at the agency.
Check out free COVID CNEs provided by NCSBN.
Learn about the changes to the June board meeting.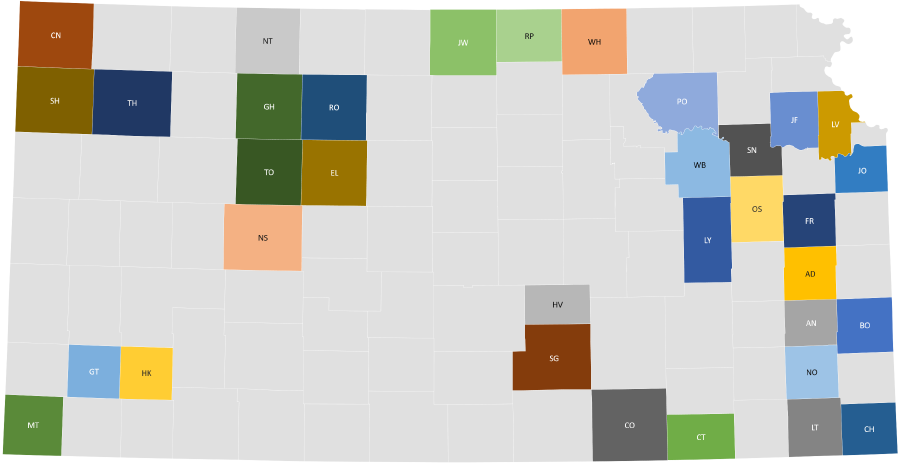 With fingerprinting services becoming harder to find, KSBN has compiled a list of locations that are still providing services and the rules they may have in place.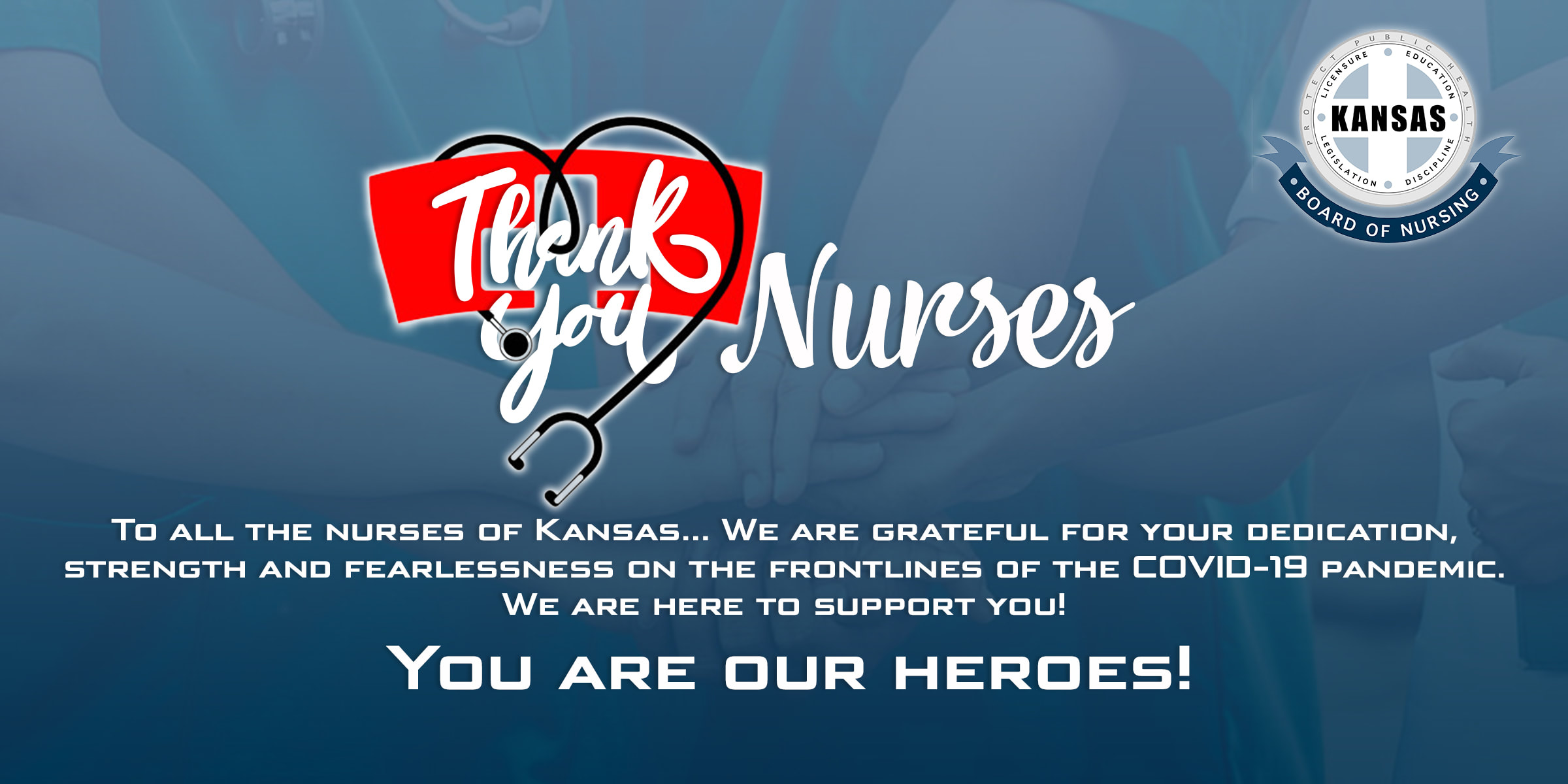 Thank You
The Kansas State Board of Nursing would like to recognize the contributions that are being made by nurses at all levels during this unprecedented COVID-19 pandemic. The courage that each front-line nurse demonstrates daily is heroic, requiring conquering personal anxiety and fears to provide care to the most vulnerable patients. Those nurses in leadership roles are struggling to make informed decisions, generate plans for our communities when no rules, guidelines or even adequate supplies exist. Meanwhile, nurses and APRN's continue to provide care for the non COVID illness and emergencies that do not stop just because our nation has an unprecedented infectious event. We applaud your "Can do" spirit, efforts to collaborate with the entire health care team and all State and local agencies that are working together to get Kansas and our nation through these unfathomable times.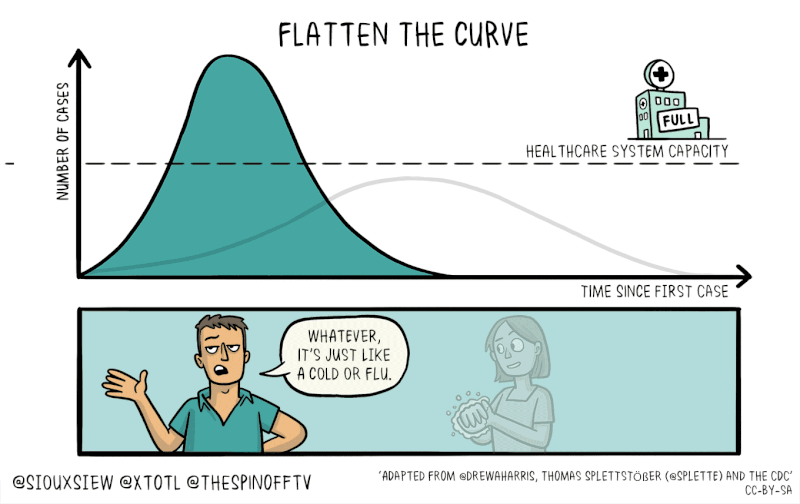 Get updates on how COVID-19 is impacting KSBN and the licensing process, read the CDC safety guidelines, utilize online resources, answer frequently asked questions, and more…
Explore KSBN's COVID-19 Information Center.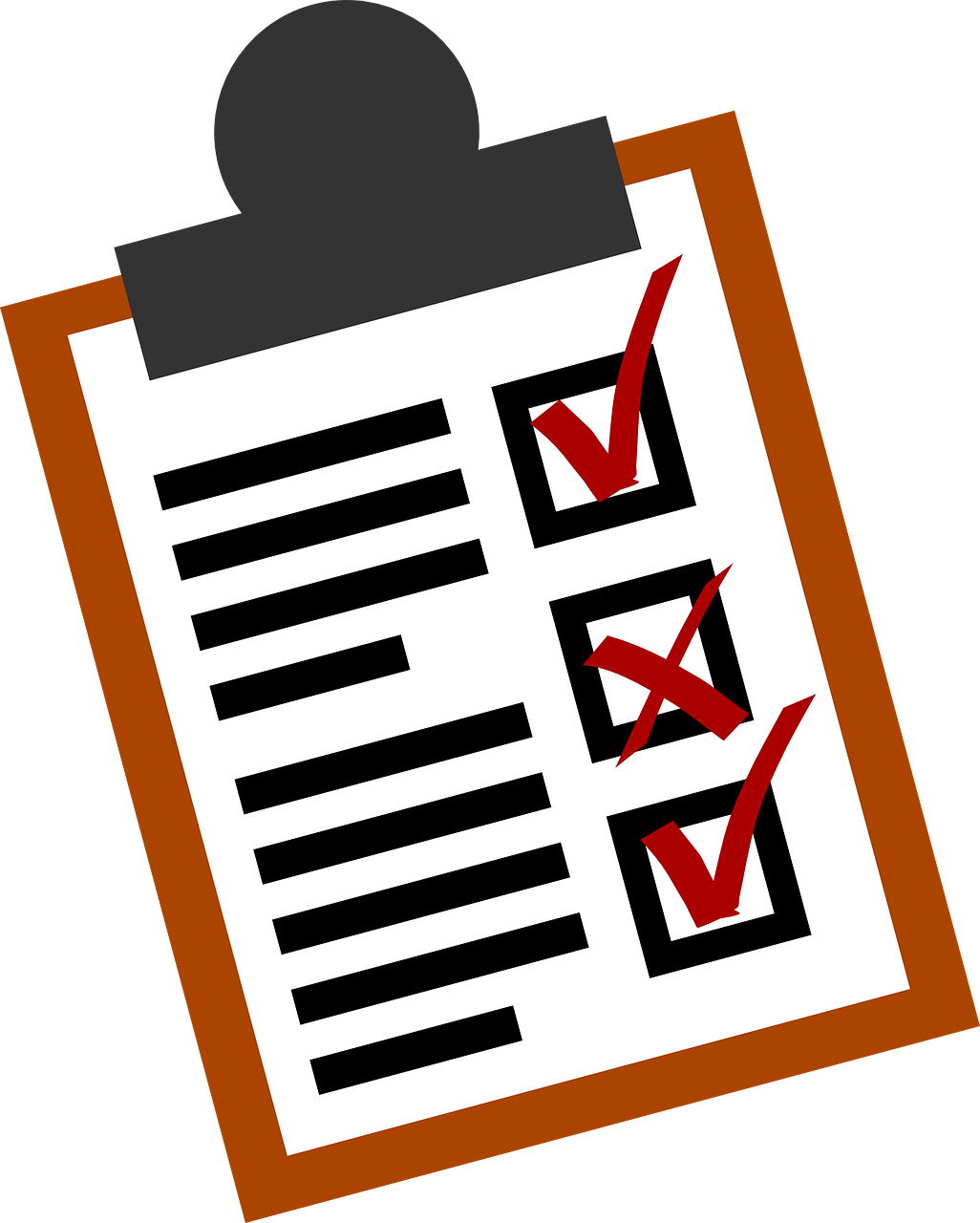 Need to submit college credit as CNE?
Need to get your CNE approved for renewal?
It just got easier! The Individual Offering of Approval form is now fully online. Submit yours today!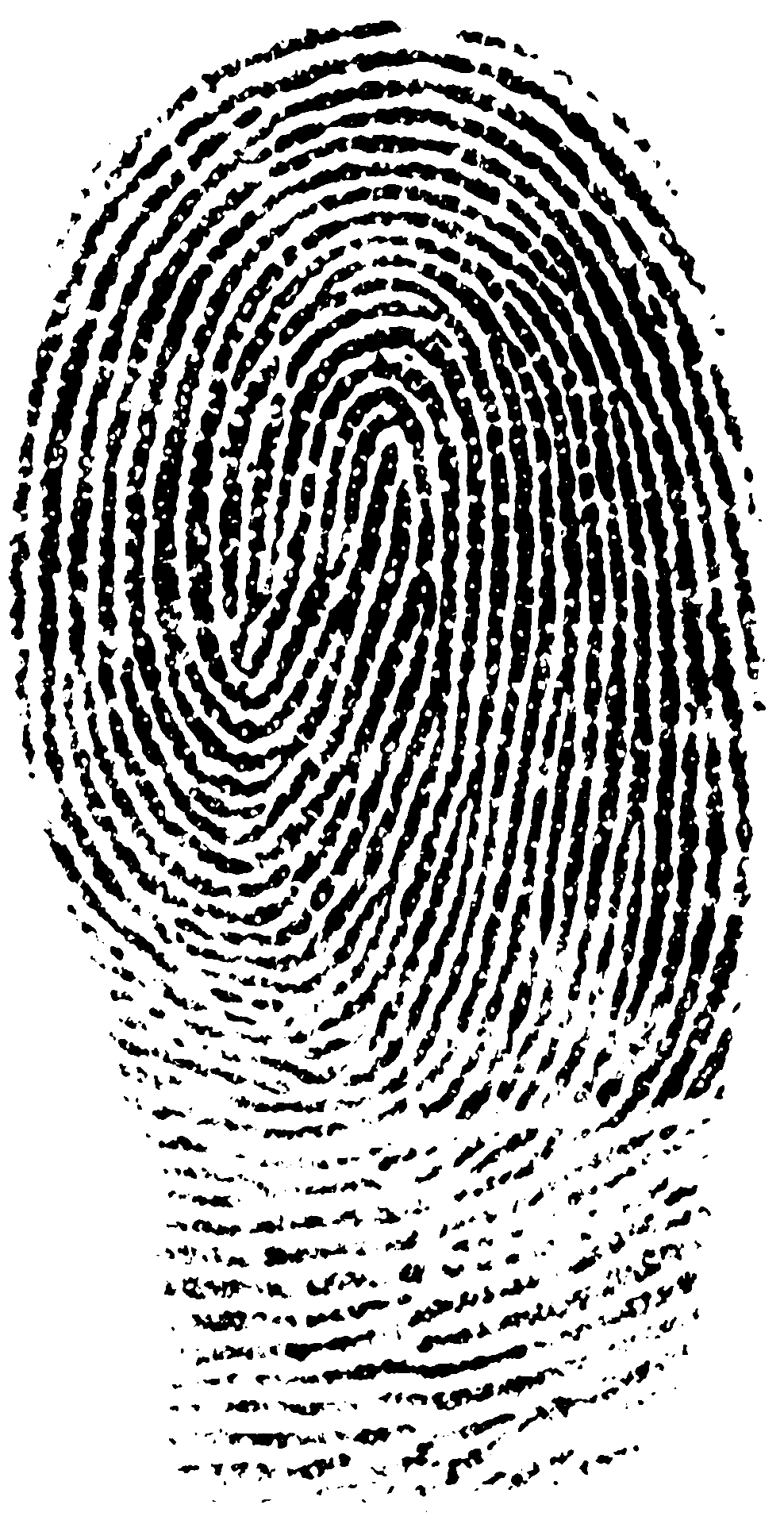 Don't forget that all multi-state applications require a NEW set of fingerprints for a background check. Any fingerprints/background checks submitted with other applications are not valid for the compact application, per compact rules.
Once fingerprints are received by KSBN, they must be sent to the KBI to be processed.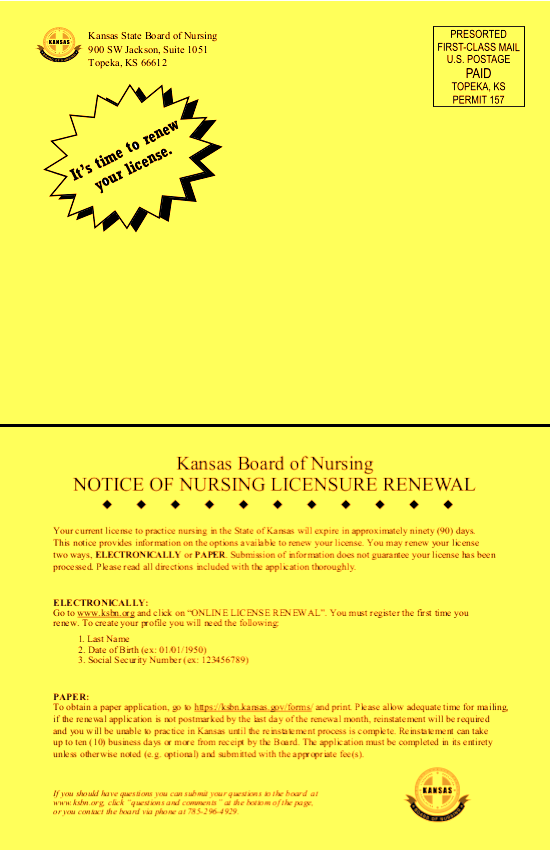 If you have received a renewal notice in the mail, but already renewed, don't panic! KSBN will automatically send a renewal notice by mail approximately 90 days prior to your expiration date.
KS does not penalize you for entering lapsed status. (See Reinstatement for reactivation) If you have a primary residence and compact license in another state, you can simply let your KS license lapse.
You can always check the status of your license, including your expiration date, by going to our verification database or Nursys Quick Confirm.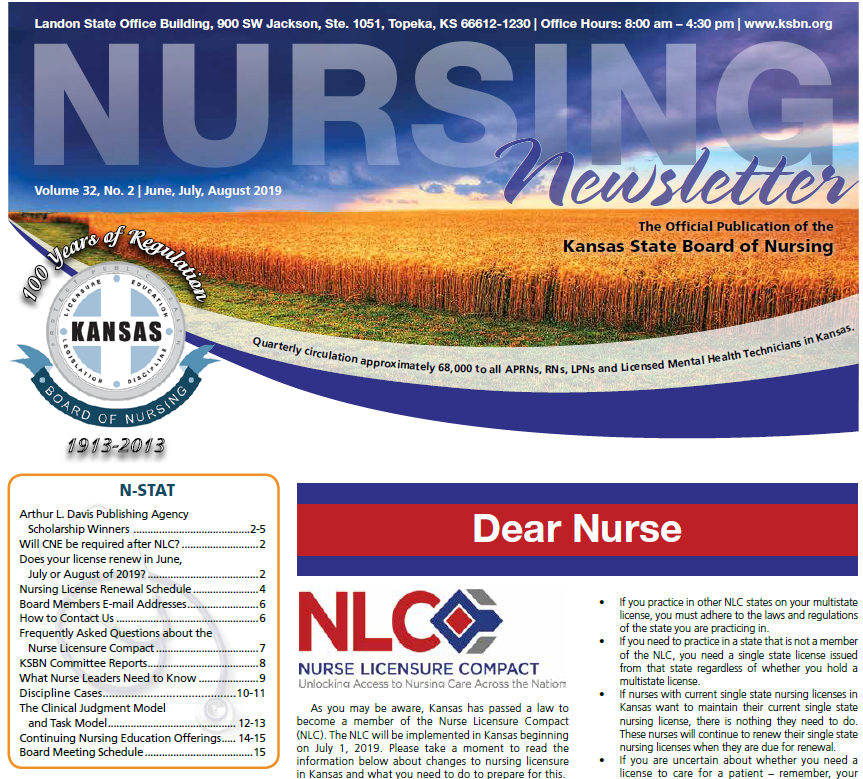 Read about the progress of the Nurse Licensure Compact in Kansas, COVID-19 impacts and more!
Everything from address changes, renewals, applications, and more can be handled from your KSBN online license portal!
K-SERV is a database of professionals who wish to volunteer when disaster strikes. Sign up today!