NOTICE
Effective July 1, 2019, Kansas is a compact state. As result of this new licensure option for our Kansas licensees, we are receiving a higher than normal volume of applications and phone calls. Our processing time is 6-8 weeks upon receipt of all required information. Any previous or NEW legal or disciplinary action that is reported on an application will need to be reviewed by the legal department and WILL EXTEND processing time. After submitting your application, in order to prevent accidental duplication, please allow 7-10 business days to pass before logging in to check the status. Checking your application status can be done by logging into your portal page and clicking "View Checklist" above your pending application.
To assist our staff to process your applications as efficiently as possible, please check out our frequently asked questions and NLC information on our website if you have questions regarding compact licensure.  Frequently the answer to your questions will be available on our website.  Thank you for your patience and understanding during this transitional period.
The mission of the Board of Nursing is to assure the citizens of Kansas safe and competent practice by nurses and mental health technicians.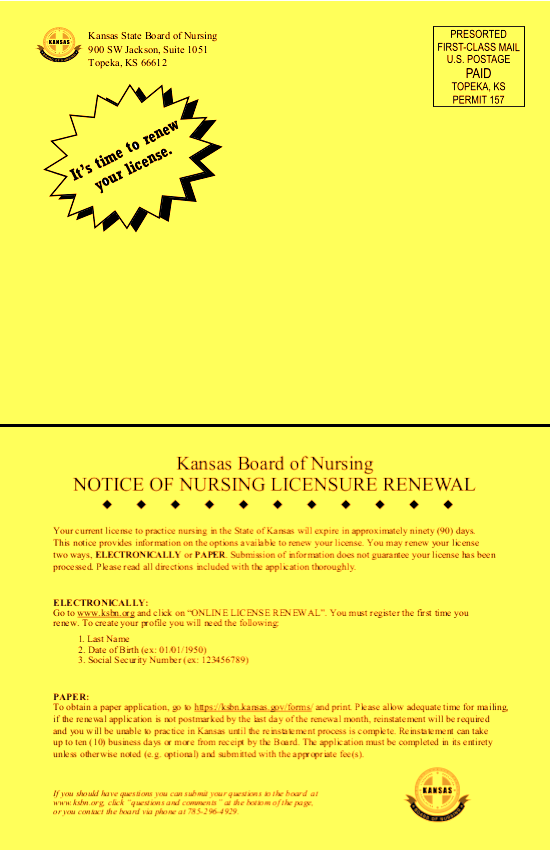 If you have received a renewal notice in the mail, but already renewed, don't panic! KSBN will automatically send a renewal notice by mail approximately 90 days prior to your expiration date.
KS does not penalize you for entering lapsed status. (See Reinstatement for reactivation) If you have a primary residence and compact license in another state, you can simply let your KS license lapse.
You can always check the status of your license, including your expiration date, by going to our verification database or Nursys Quick Confirm.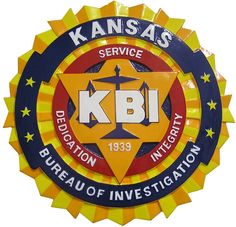 Fingerprint Opportunities!
Location: 1631 SW Topeka Blvd, Topeka KS, 66612 (The KBI Annex)
Payments Accepted: Check, Money Order, or Credit Card (No Cash)
Times:
Saturday, August 10th – 8am-Noon
Saturday, August 24th – 8am-Noon
Saturday, September 14th – 8am-Noon
Saturday, September 28th – 8am-Noon
Feel free to drop by the KBI Annex and get printed for your KSBN application!
Have questions? Reach out at: 785-296-4038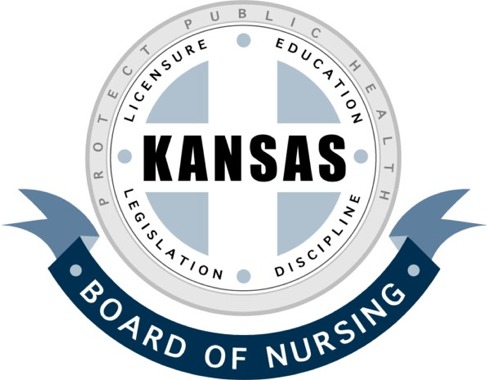 July 1st, KSBN's fees will be changing as approved in the special board meeting held in April regarding K.A.R. 60-4-101.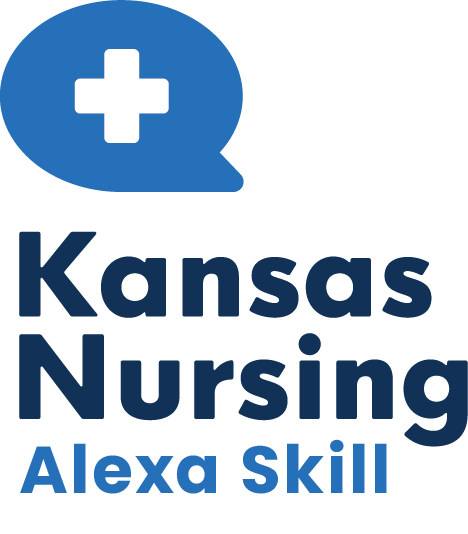 Introducing: Kansas Nursing! The KSBN Alexa skill for Nursing License Verification.
Everything from address changes, renewals, applications, and more can be handled from your KSBN online license portal!
K-SERV is a database of professionals who wish to volunteer when disaster strikes. Sign up today!